Are you looking for the best radio for your car or truck? If you are thinking so, then welcome, you are in the right place. 
A decent car stereo including a backup camera can be the most exciting function of your car. Besides, it will help you drive safely and some stereo models on our list offer a few modern functionalities like seamless smartphone integration.
To clarify, the double-DIN is a standard that implies a unit with a double-height of a standard DIN radio at 180 by 100 mm, or roughly 7 by 4 inches. Above all, it is a sophisticated invention with a lot of popularity. 
Today, we are here to inform you about the 5 best double dins with backup cameras. We will also discuss the pros, cons, key features, and buying guide of this product with proper information and suggestions. 
If you want to modify your car with modern technology, then this article is only for you. 
So, let's get started.
Top 5 best double-DINs with backup cameras- Review Section
1. Soundstream VR-65B Double-DIN Stereo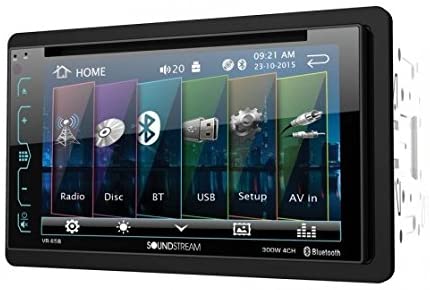 Do you want to bring a great modification to your car? If you want, the Double-DIN Car Stereo can be one of the best double-DINS for your car. To say frankly, this modification will improve the smartness of your car.
This car radio has some amazing features such as Bluetooth hands-free and music system, updated backup cameras, and what's not. 
Most importantly, Advanced audio distribution profile technology offers  top-notch audio quality. Generally, it provides stereo-phone interconnection facilities. Manufacturers have designed it as a universal double-DIN standard. 
We are quite sure that you will be satisfied with this product. 
Key Features:
Highest Power output: 50 watts x 4 channels
Bluetooth technology for audio streaming
A2DP technology 
Remote control 
2. SJOYBRING Double Din Car Stereo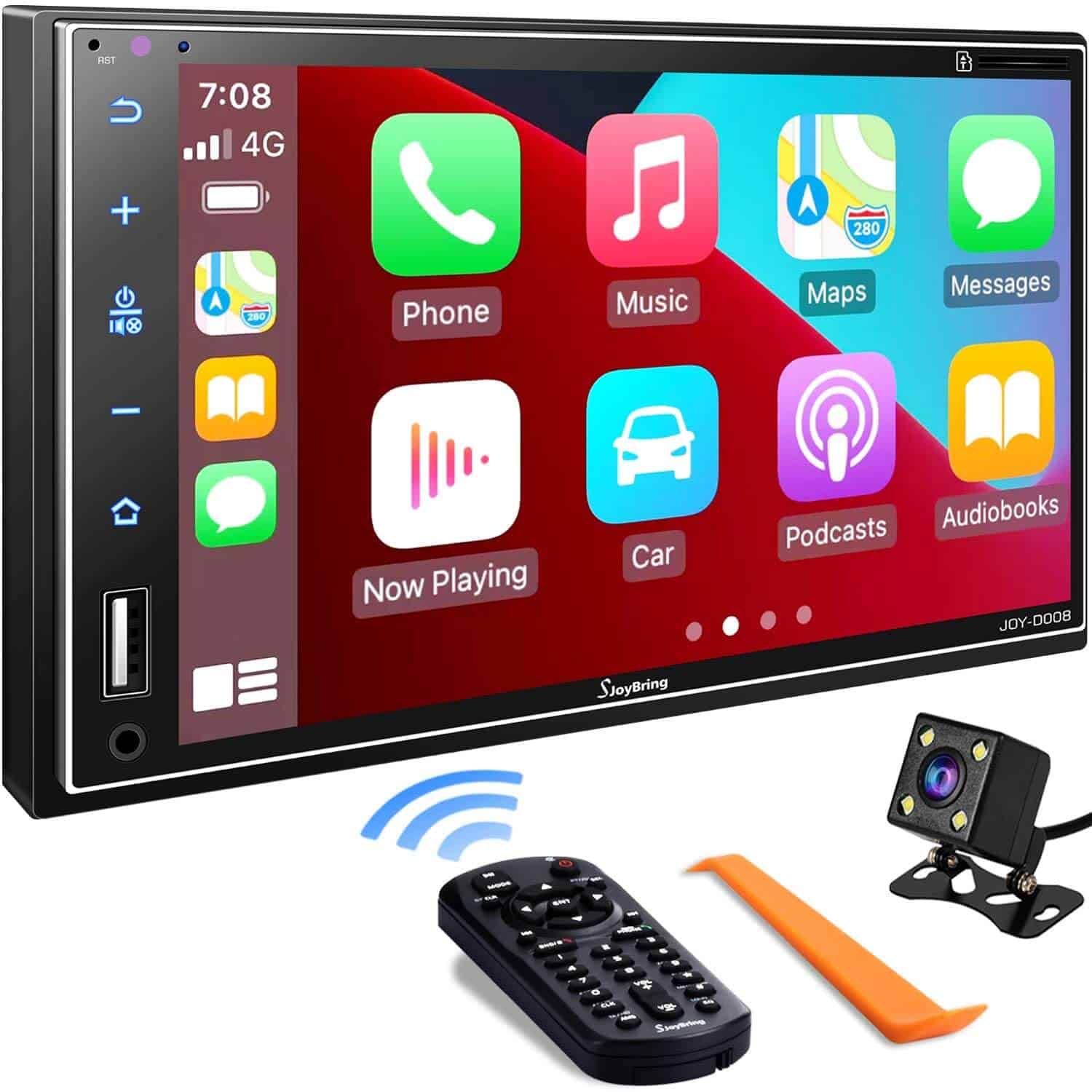 Another latest Double-DIN car stereo is the Double Din Car Stereo Compatible with Apple CarPlay, 7 Inch Full HD Capacitive Touchscreen. Smart design, backup camera, steering wheel, subwoofer, etc. are the main characteristics of this product.
Above all, this latest automobile part provides superior voice assist control. Moreover, it makes the voice assist control easier to access your iPhone functions. For example, calls, GPS navigation, music are some of them. 
The main point that we must say is its backup camera. That is to say, this car stereo provides HD rear camera with night vision and a 170° ultra-wide viewing angle, and a fully waterproof design. 
To say frankly, with these features, it is one of the best double din car stereos with backup cameras. 
Key Features:
HD full touchscreen & HD video playback
HD Wide-Angle Rear-View Camera
Bluetooth 5.0 Connectivity & Latest Phone Mirror-Link Technology
Drive Safer and Smarter with Apple CarPlay
Enhanced Steering Wheel Control
3. Hikity Double Din Android Car Stereo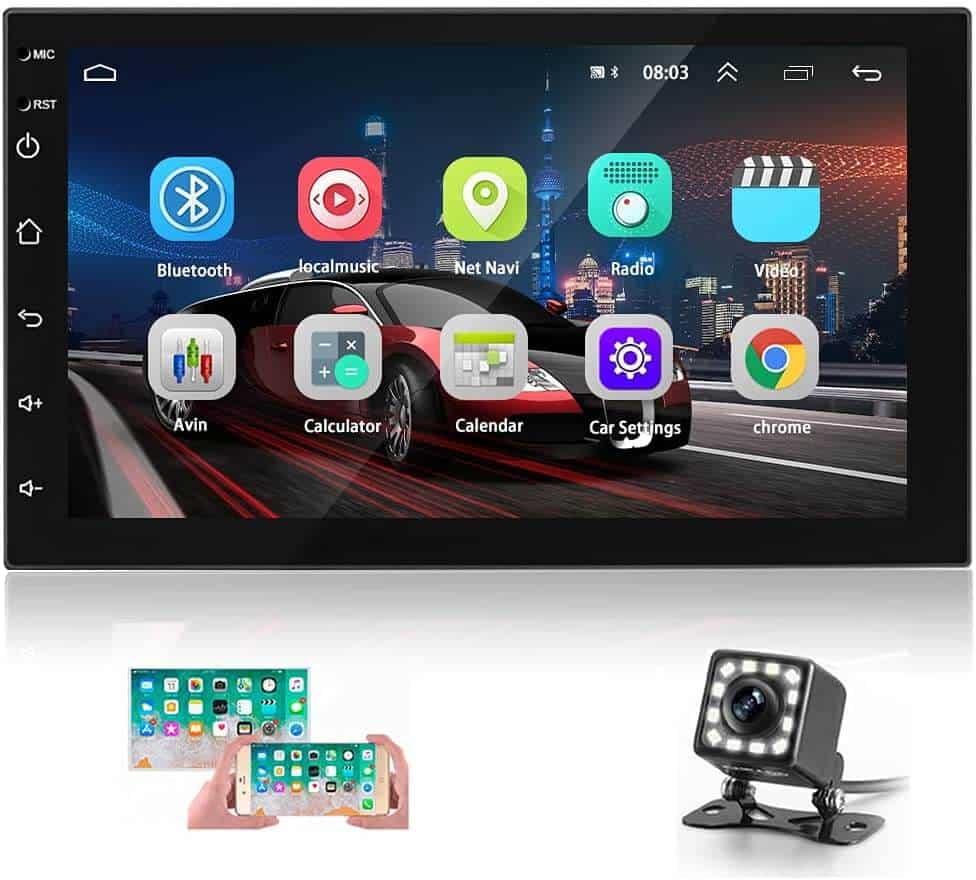 If you want to buy a Double-DIN car stereo with Android, WIFI connect and backup camera, then this product can be a good choice for you. 
Undoubtedly, it is the best Double-DIN car stereo with a backup camera. This 7-inch touchscreen device has some sophisticated features that have made it able to touch the pick of popularity. 
Certainly, you will get the android functions with this product. In addition, Mirror Link for the Android/IOS Phone system will help you to operate the device easily. 
Because of its built-in GPS receiving system, you can use the offline map and use it at the time of driving. A special feature is that you will find both Bluetooth and WIFI technology. 
Therefore, we would prefer to suggest this product if you desire to have a double-DIN car stereo with both Bluetooth and WIFI technology.
Key Features:
WIFI 3G/4G Dongle
Mirror link
FM radio
Support Reverse Camera
SWC
4. SJOYBRING Double DIN CarPlay Multimedia Player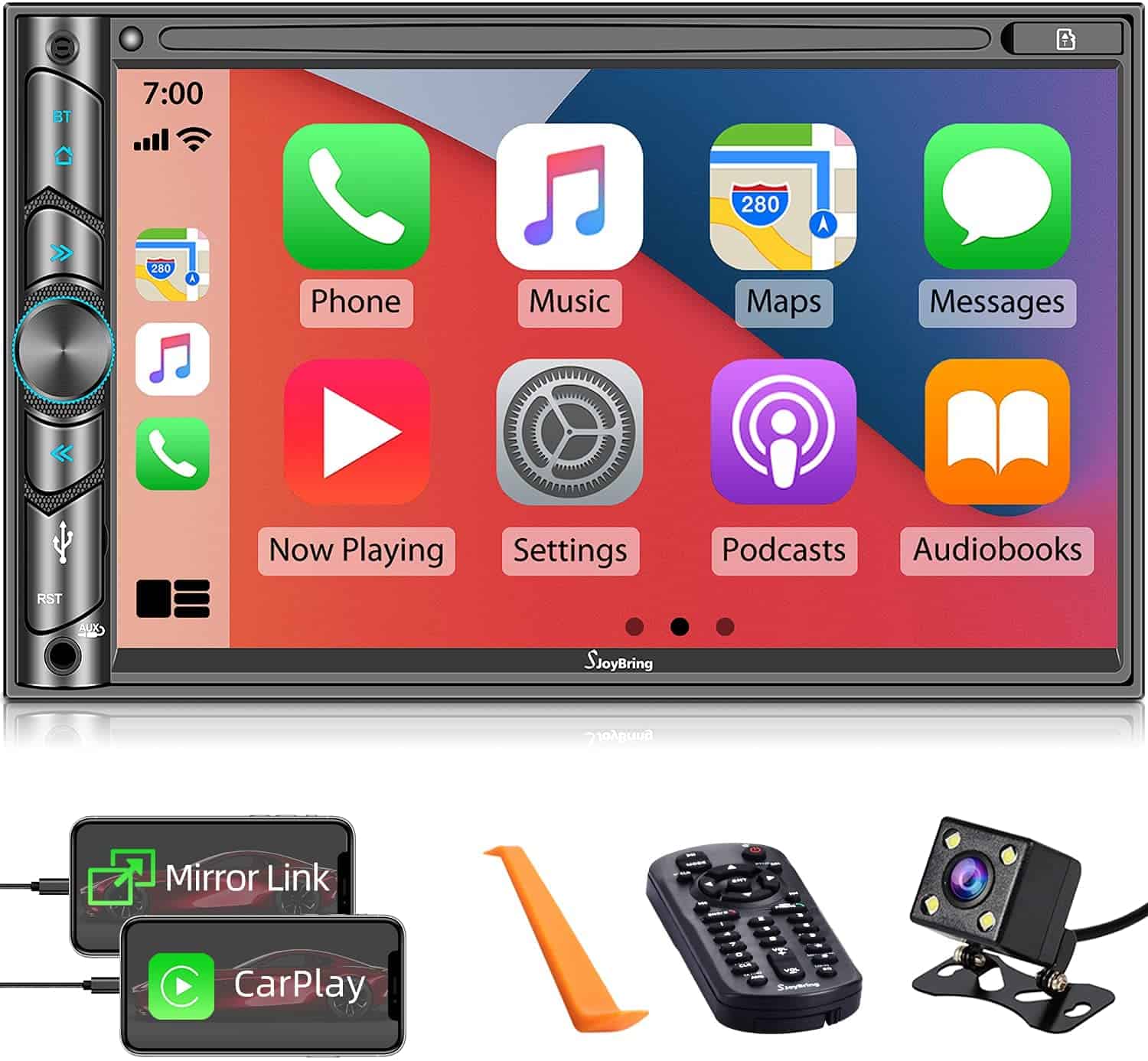 If you don't want much hassle while installing the stereo, then it's an easy pick for you. 
Let's know about another Double-DIN car stereo with a backup camera. The Double DIN CarPlay Multimedia Player is a car stereo with some special features. In other words, it has achieved wide popularity through some exciting high-tech features.
If you buy a normal product without knowing the ABC of it, you will find it useless after some days. That is a way you have to buy the best one in any case. 
But there is no tension about choosing a car stereo. Because the Double DIN CarPlay Multimedia Player is the best for you. It has an unlimited upgrade Car Stereo system. Again, its safety measures, convenience are notable. 
Certainly, you can choose it for your special one as a gift. You may be startled at the uses of its front and rear cameras and their features. Its rear camera starts powering on automatically at the time of shifting reverse. 
Key Features:
Phone mirror link
CarPlay & Voice Control
HD Rearview Image
Steering Wheel Controls and Memory function
High-Performance FM/AM Radio
5. Hieha Car Stereo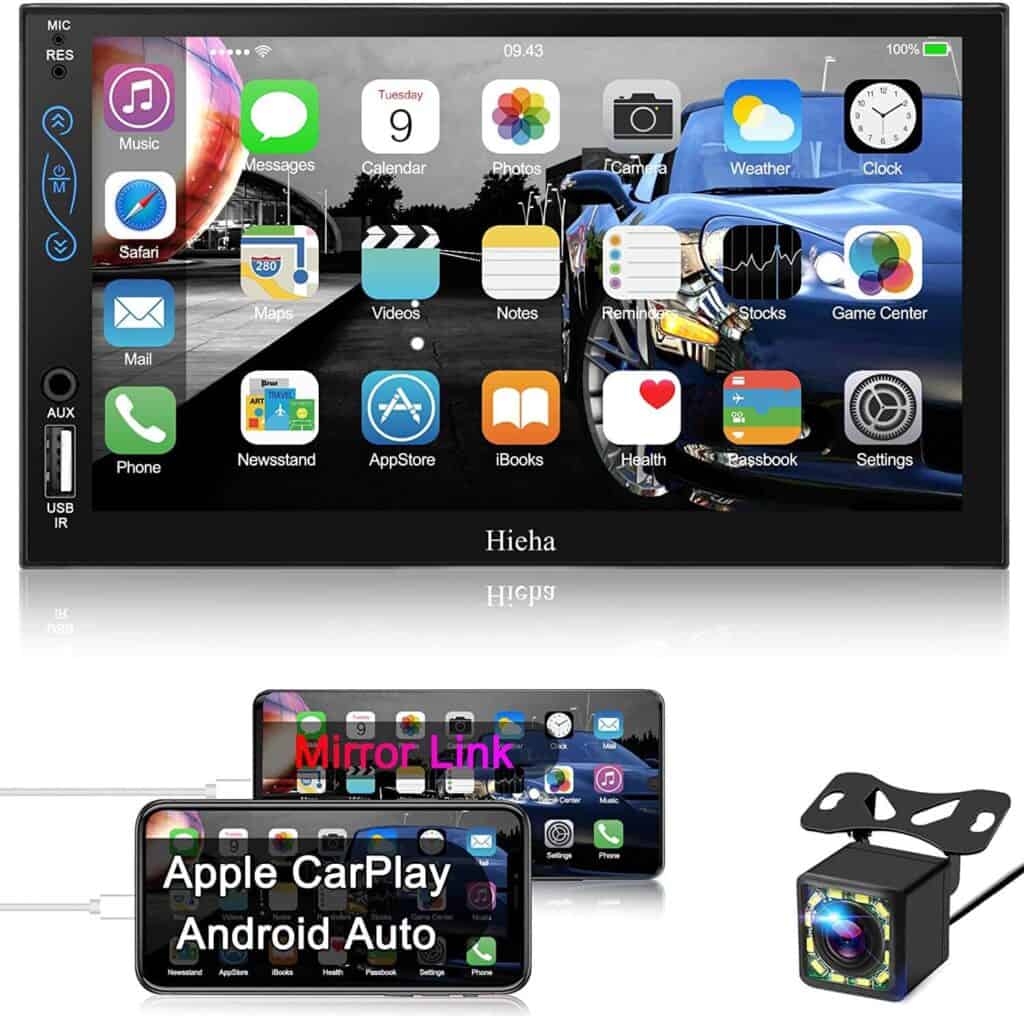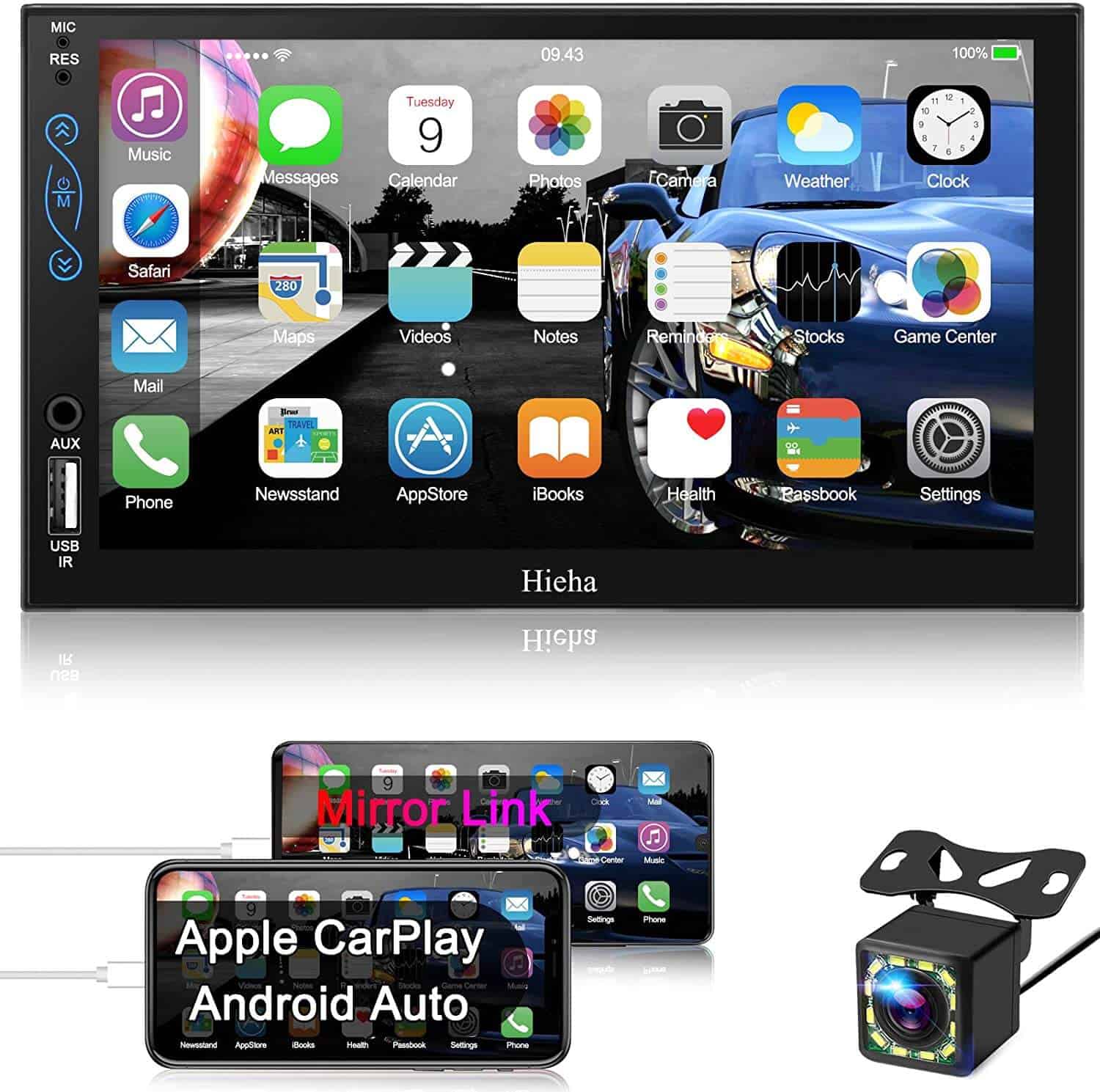 Last but not the least, there is one more Double-Din car stereo. It is the Hieha Car Stereo Compatible with Apple CarPlay and Android Auto, 7 Inch Double Din Car Stereo with Bluetooth. In a nutshell, this product is worthy of getting suggested. 
The people of the first growing countries are trying hard to become smarter than before. As a result, diversification and up-gradation are taking the hardest faces. 
Likewise, this is a sophisticated device with some extraordinary features. It is compatible with Apple CarPlay and Android Auto features. Again, its user-friendly digital control interface is the most demandable feature.
In addition, its HD Video and Multi-Format Player can play 1080 P video. Steering wheel control function, 7 colors LED buttons, music player, video player, and many other things are attractive forms of it. 
If you want to find a stereo for your car, we suggest you buy this best Double-Din with a backup camera-based car stereo. 
Key Features:
Rear View Camera
HD Video AND Multi-Format Player
Phone Mirror Link Function
Compatible with Android Auto and Apple CarPlay  
4 model inputs
Best Double-DIN Stereo with Backup Camera: Buying Guidelines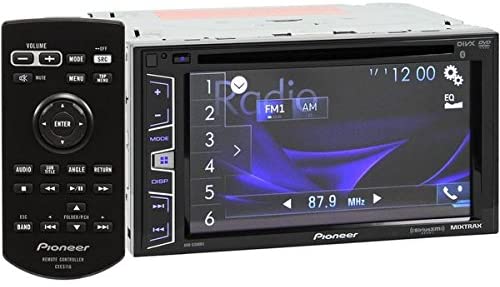 After reading the reviews of some of the most powerful Double-Din car stereos with backup cameras, now a question may have come to your mind that "How can I choose the best product?" Well, we are here. For your consideration, we have given you the buying guidelines. Let's see the points that must be considered at the time of purchasing. 
The first point is the display of your Double-DIN set. The large your display is the more you will get benefits from it. To say exactly, you should choose the 7-inches display. 
We can say a device is modern if it has a lot of functions. Yes, a function is the main way by which we can find it whether your device is digital or not. 
That is to say, at the time of buying a Double-DIN, you have to ensure its functionality. Take the device that has more functions.
Another main point is connectivity. Many Double-DIN products can connect two devices. Make sure that you have chosen the device which has this facility. Because you can connect two smartphones if your device has this function. 
Playing music from many sources
Digital and smart devices can play music from many sources. Nowadays, it is a common feature. That's why we chose the device with the ability to play music from many sources. 
Suppose, you have bought a modern device. But you are unable to install or adjust it. Of course, this is a problem. You should find the Double-DIN which can be installed very easily. Moreover, you also have to be determined to have a user-friendly product. 
If your DIN product seems very hard on you then you will feel bored using it. That is why you must check your device's installation process.
Power and safety benefits
To say clearly, the more power your device has, the more sounds your device makes. So, the power of a Double-DIN product is a notable point. Sometimes, you need to have many sounds. In that case, the powerful device is more acceptable than others.
Remote control, backup camera & navigation
Generally, we buy a Double-DIN device for backup camera and navigation purposes. This device is greatly used when it comes to finding out the map or navigation uses. This is why you should ensure these features. 
Moreover, to control it from distance, you can use a remote. Sometimes, a situation may come when you have to use it from far. In that case, you have to have a remote controller. At last, choose the device that has a remote-control system. 
Conclusion
Recently, updated automobile parts have many functions. Therefore, choosing the best parts is not easy. 
For this, you have to know all the features, pros, and cons, guidelines it has. Choosing the best Double-Din with a perfect backup camera requires the same way. 
For your convenience, today we have discussed them in this article in a simple way. You can buy in a free mood after reading this valuable article. 
Moreover, you will also know about the information and key features of the top 5 Double-DIN products. You are requested to glance over the content before buying a Double-DINT product.