If you own a Ford F150 and want to get the most out of it, you should install a set of performance brake pads. These little pads can save or kill lives, and when correctly maintained, they can win races and offer unparalleled off-road performance.
It would be best to replace brake pads based on how much braking power you use while driving (some people use brakes instead of downshifting). You may need to repair your brake pads more frequently to ensure safety compliance. 
While buying replacement brake pads for your Ford F150 4×4, there are some factors for you to consider. Because your vehicle's brakes are one of the most crucial components, you want them to be completely trustworthy in the case of an emergency. You want them to be vibration-free, noiseless, and strong enough to stop the F150 completely for regular driving.
In this article, we have taken all of these aspects into account for you. We found the best brake pads available, and we are confident in recommending the five best brake pads for the Ford F150 4×4 listed below. Let's go right into each product's breakdown.
If you don't have enough time to read the full article, know our top pick. 
Our Top pick: 
#1. Wagner ThermoQuiet QC1083 (Quiet Performer)
1st Runners-up: 
Bosch BC1414 Premium Brake Pad – (Best F150 Ceramic Brake Pads)
2nd Runners-up: 
Power Stop K3167-36 Z36 Truck & Tow Front Brake Kit
Top 5 Best Ford F150 4×4 Brake Pads Reviews in 2021
1. Wagner ThermoQuiet QC1083 (Quiet Performer)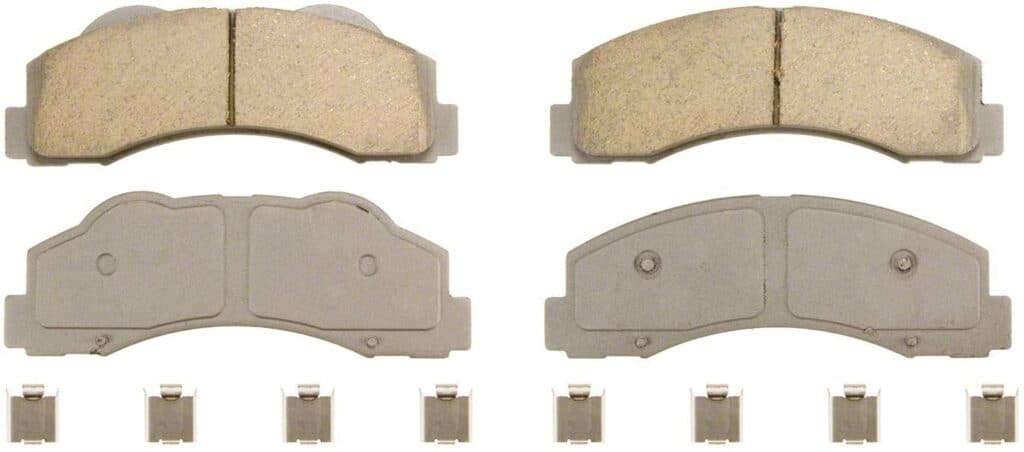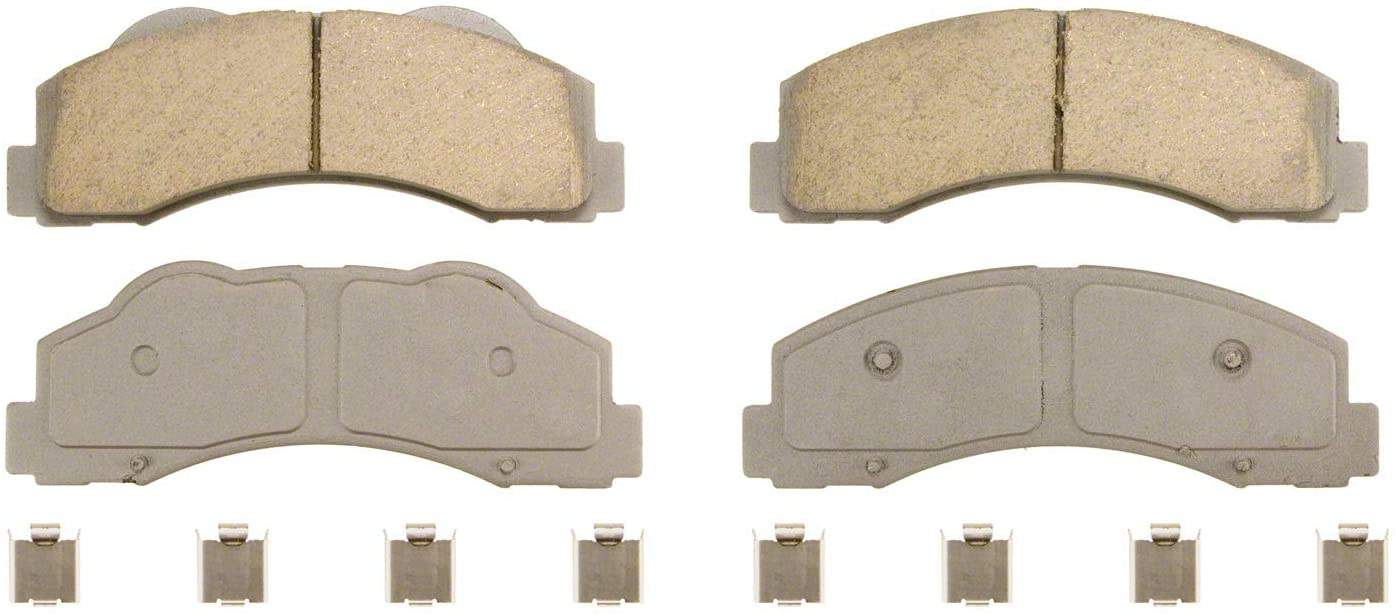 Wagner is a renowned brand regarding braking systems, and their ThermoQuiet QC1414 Ceramic disc pad set provides regulated stopping power and quiet operation.
It has a unique ceramic structure that blocks any annoying noise you may have faced using other branded brake pads. ThermoQuiet ceramic pads are compelling overall, about 35% quieter than the brake pads installed in the factory. 
It works more quietly with the spread of heat and vibrations to decrease noise to the minimum. It provides improved friction, cleaner wheels, and a lower risk of wear. Applying OE21 low copper technology, Wagner has wholly altered the performance game for brake pad producers. You can choose this option for a quiet and neat journey.
It is easy to install, although the caliper bracket bolts are torqued higher than general. 
Key Features: 
Long-lasting friction performance
Reduced brake fade
Premium stainless-steel hardware included for select applications
One-piece design
2. Bosch BC1414 Premium Brake Pad – (Best F150 Ceramic Brake Pads)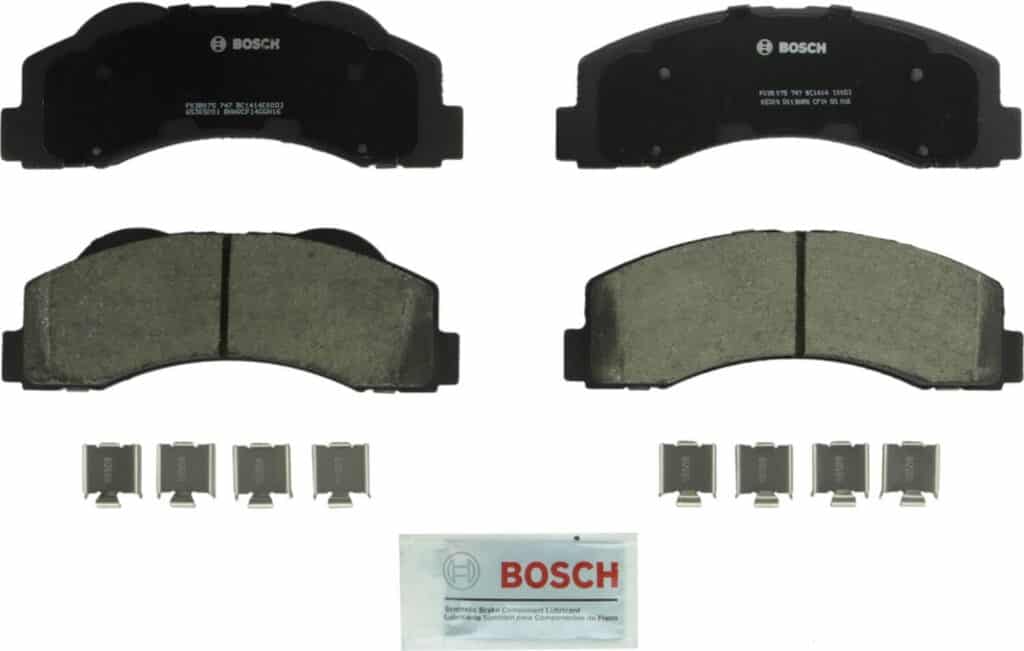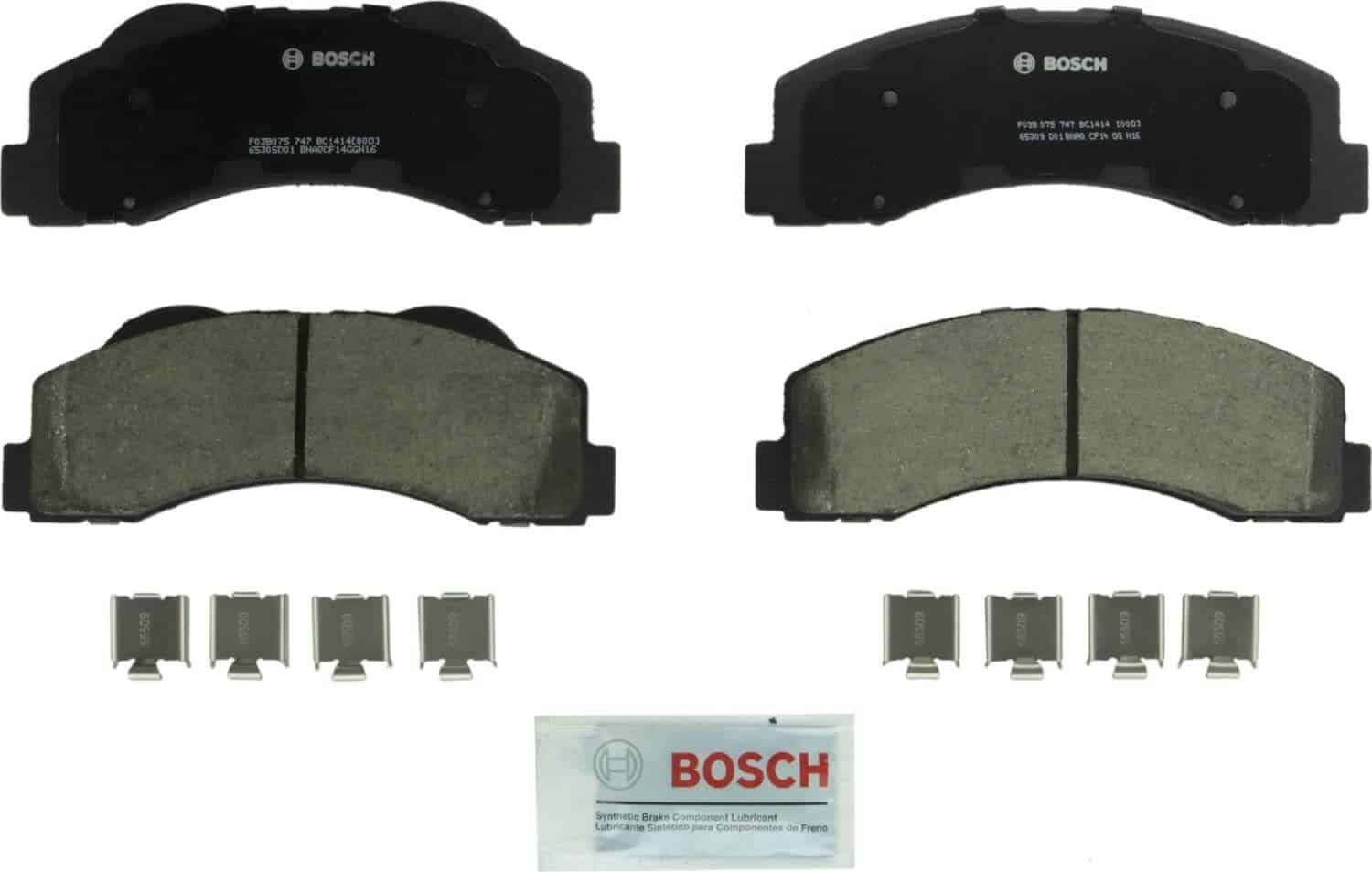 Bosch is a well-known auto braking brand and makes reliable equipment. If you're searching for brake pads at a low price that will make no dust and noise, then check out this set.
These pads come with high-quality copper-free ceramic materials that offer strong braking power without producing much noise. It also contains a chemical formula to create a safety layer on the rotor and the pad cover to prolong the life of both elements.  
The Bosch BC1414 QuietCast Premium Ceramic brake pads have some features that make them a reliable replacement alternative for your Ford F150 4×4. The multilayer core shim and the formulation of the places themselves supply an excellent coefficient of friction. Besides, this design also allows for decreasing noise and keeping the rotors clean. 
Key Features: 
Semi-metallic friction formula
100% copper-free ceramic
Multiple layers of premium rubber and steel
Meet OE standards
3. Power Stop K3167-36 Z36 Truck & Tow Front Brake Kit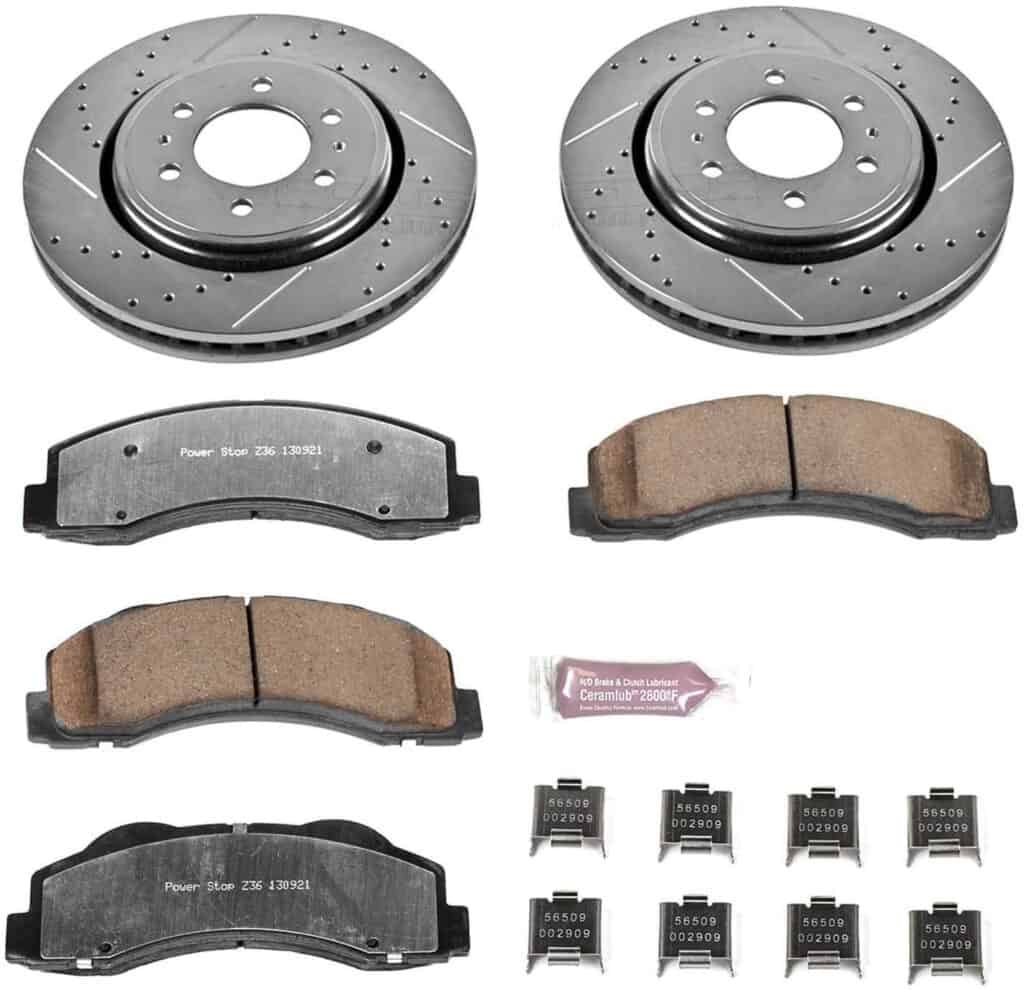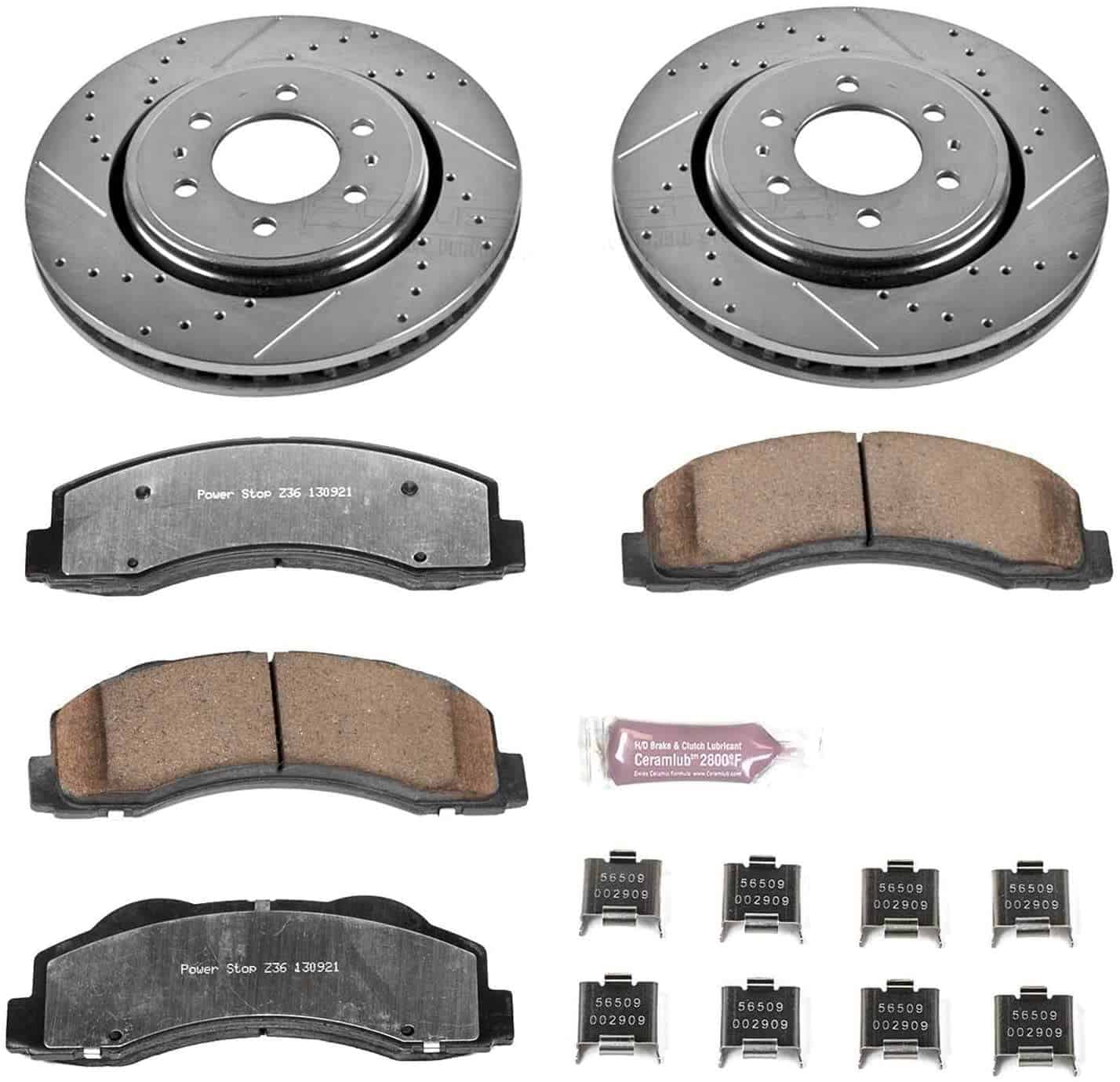 This set of front brake pads provides excellent stopping abilities and will bring your truck to a stop instantly, even in intense situations. If you haul or tow large loads, go to lots of mountain driving, or have oversized tires and a lift kit installed, these are the perfect pads for you.
It contains excellent parts for a predictable and active speed. It is built with carbon-fiber ceramic to supply the most fantastic performance.
The carbon strands are mixed with the low-dust formula to create a potent compound blend. The compound ensures that you will lose power without sacrificing your driving skills.
Moreover, say goodbye to all the dusty brake pads that affect the efficiency of your performance. Using these brake pads, you don't have to confront disturbing noises anymore.
Key Features: 
High Temp EPDM Rubber
Silicone Lubricant
Silver zinc dichromate plated rotor
DTV tolerance
4. Wagner QuickStop ZD1602 Ceramic Disc Pad Set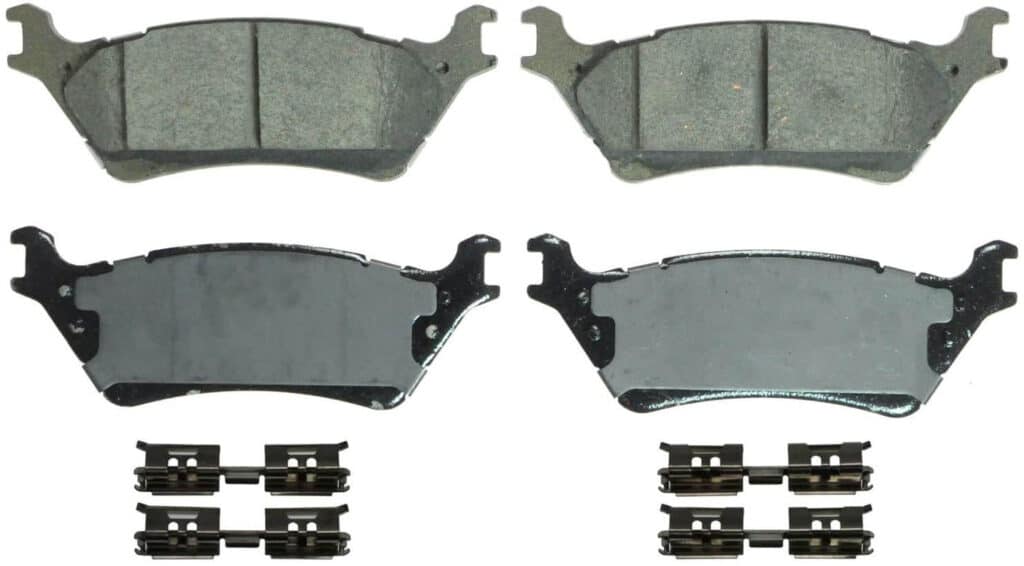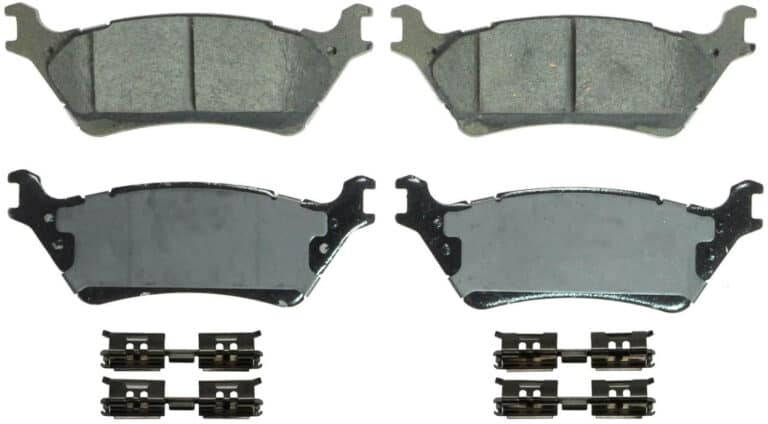 Wagner has always provided cost-effective goods. The Wagner ZD1602 ceramic disc pad is one of them. Using this disc pad set, one can get a smooth, noise-free experience for a lifetime.
This brake is made of excellent stainless steel, much like the rest of the Wagner brakes. The inner pad is around 16.002mm thick, while the outside pad is approximately 14.986mm thick. Wagner specialists have built the friction manufacture OE-mate to provide reliable braking performance.
Besides, the friction is produced through the whole OE post-curing process so that the user can get the best friction performance. Because of having been created for the particular usage, Wagner ensured to provide a noisy vibration-free experience.
These brakes have been thoroughly tested before being released to the market. It comes with a two-year warranty that covers any flaws discovered during everyday use. During these two years, one can get repairs and replacements at no cost.
Key Features: 
Long-lasting smooth performance
Chamfers and slots for better noise control
Premium stainless-steel hardware included for select applications
Reduces noise-causing vibration
5. Motorcraft BR-1414 Kit – Brake Lining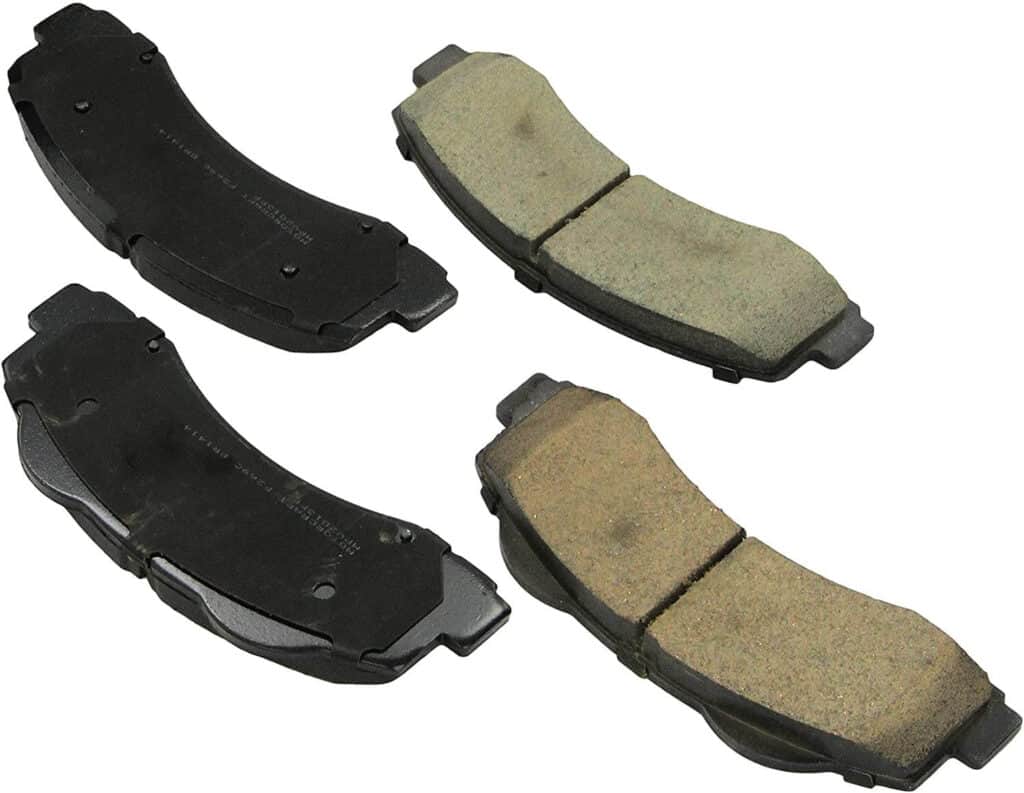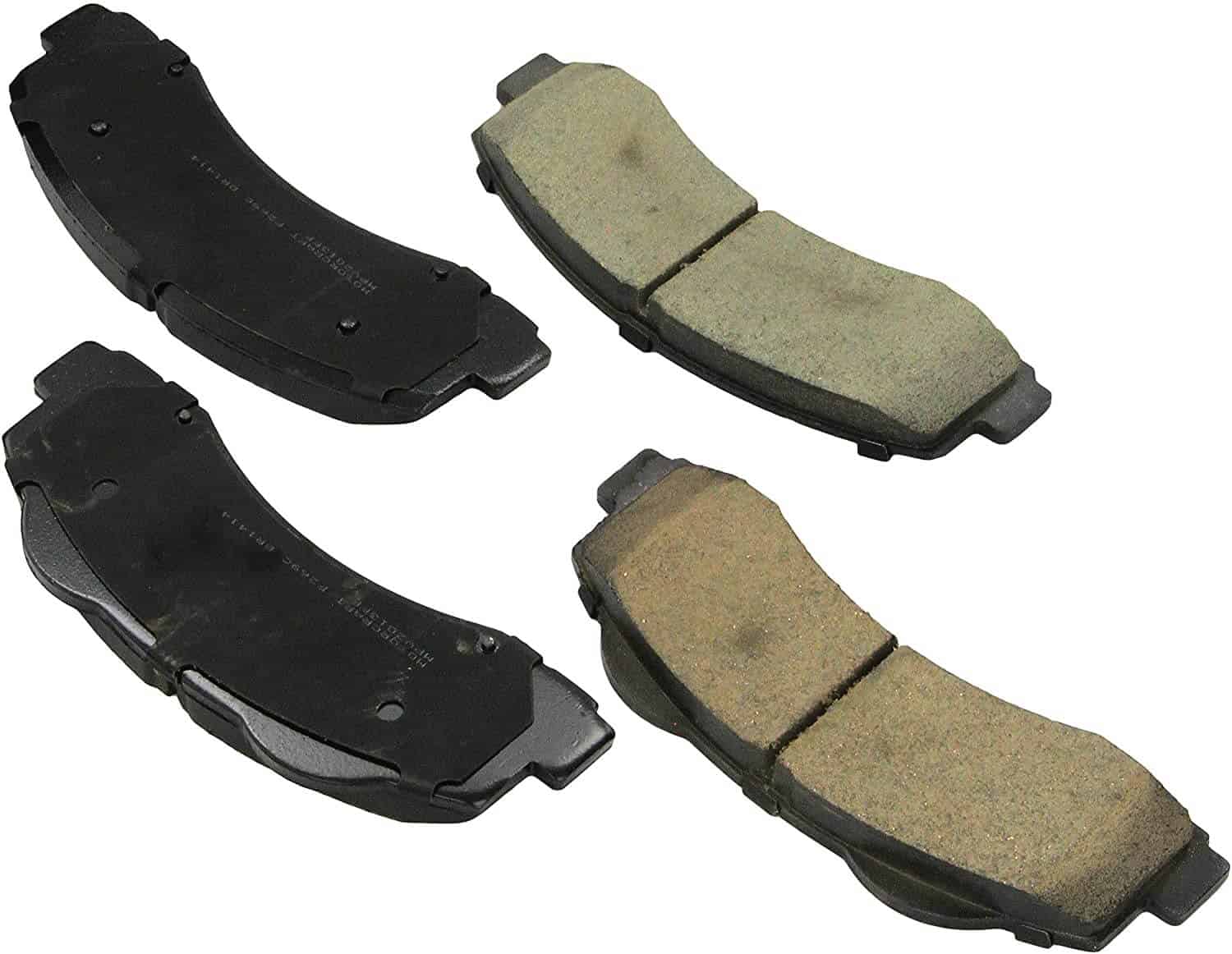 Motorcraft creates the most solid and original brake and friction products for Ford and other large companies like Lincoln, mercury, etc. Ford Motor Company highly recommends these parts for their cars.
Each set has been fine-tuned to suit your car perfectly. To provide the best stopping performance, they match the precise configurations and weights.
Semi-metallic brake pads are the most popular form of the brake pad. However, they aren't always as quiet as ceramic brake pads. This type may be unique because it settles in quickly and appears to run smoothly and silently for many miles.
They are highly robust and have excellent thermal performance, allowing the brakes to remain calm and perform to their full potential.
Key Features: 
Direct OE replacement
Compatible with slotted, drilled rotors
Fit with stock brake calipers
The complete kit contains new shims
Consists of Hardware
Buying Guideline Of Brake Pads for Ford f150 4×4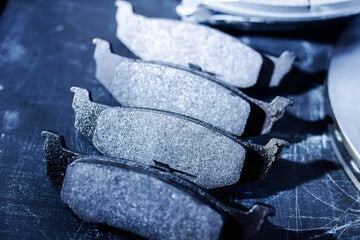 Brake pads come in various designs, materials, and sizes, so buying brake pads for your Ford F150 may turn out to be challenging. Brake pads are a vital part of the braking system. Therefore they should be chosen carefully, keeping safety, quality, and dependability in mind.
Before purchasing the brake pads for your Ford f150 4×4, consider the following factors discussed below.
Organic Non- Asbestos
These brake pads have natural compounds such as fiber, rubber, glass, and Kevlar. But, it makes plenty of dust, so cannot it be ideal for driving in the desert or any sandy, mountainous area. But these pads are not so costly.
Semi-Metallic Brake Pads   
These brake pads have wire, copper, and steel wool, and other metallic materials. But, these are not suitable in cold weather and are not durable as these wear out the brake rotor because of the mixture of steel.
Low-Metallic NAO
These brake pads have ceramic fibers with other compounds. But, These are pretty costly and would not be appropriate for your budget. They are thought to be the cleanest and function the best, so they do not wear out the rotor.
Conclusion
Safety comes before anything. You may rest assured if you have good players on your squad. While driving on the road, having the most advanced safety system in your Ford keeps you at ease. Even an inch or a meter of space on the road might be dangerous.
Brake pads operate silently behind the scenes, ensuring that your automobile comes to a complete stop when you use the brakes. As a result, adequate stopping power is all that separates a good voyage from an unpleasant one. So choose the best brake pad wisely and rest easy. 
Hopefully, this review of the best brake pads for Ford F150 4×4 was fruitful for you.